Cançoners Db is a database that gives relational access to a complete set of data about medieval Catalan poetry: authors, songbooks, poetic compositions, dedicatees or commissioners, secondary bibliography, as well as many other relevant elements. Only registered users have access to the complete functionalities in Cançoners DB. Registration is free.
Register users, for instance, have access to the whole set of links in the lists of Authors, Texts and Sources:
| | |
| --- | --- |
| | |
| Limted access to data for unregistered users | Fully linked database data, accessible to registered users |
Registered users have access to special options in the Menu, such browsing the map of Courts or searching the new Digital Library of medieval Catalan poetry. This is a renewed, updated version of RIALC Repertorio Informatizzato dell'Antica Letteratura Catalana, and will gradually add new texts.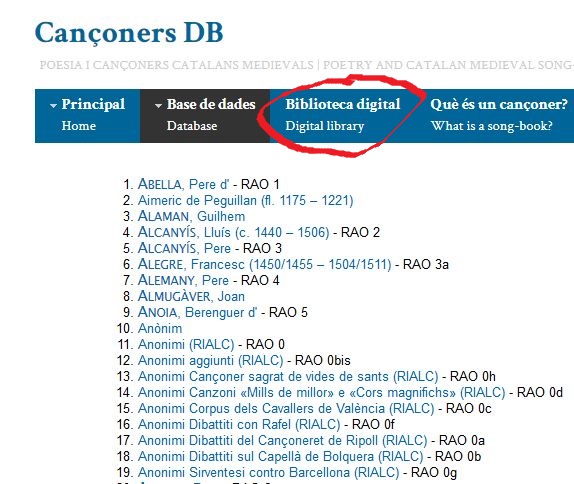 Additionally, registered users may also receive information about new updates and improvements to the database or related activities.
User registration and feedback is also important to renew Cançoners DB and to obtain funding for its updating.